Performance Biography
Keith Warner (Director, UK) says he wanted someone who could "sing like Maria Callas and act like Meryl Streep". And in leading lady Adria Firestone, he thinks he has found her. – Brisbane News, Australia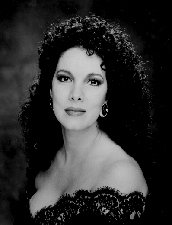 Adria Firestone's over 25 years experience behind the footlights has been diverse. A respected actress and singer, she has appeared on stage and in concert in a great variety of roles encompassing the repertoire of opera, contemporary works and musical theater.
In demand for modern and contemporary works, she was Regina (Regina Giddens in Little Foxes) with Nashville Opera, and added Desiree with Utah Opera at the 2002 Olympics in Sondheim's A Little Night Music. Ms. Firestone is the vocal artist on the CD of John Cage's Five Songs for Contralto and Experiences, a series of e e cummings poems (Wergo label 6159-2). At San Diego Opera, in 1997, she created the role of Doña Francisca opposite Jerry Hadley in the world premier of Myron Fink's The Conquistador.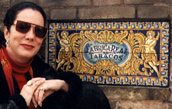 Ms. Firestone is especially renowned for her interpretation of Bizet's legendary Carmen. Since her debut as Carmen in 1980, she has portrayed the gypsy over 200 times throughout the world, and was declared "The Queen of the Palacio de Bellas Artes" (Reforma, July 1997) in Mexico City. Her gypsy opened San Diego Opera's season opposite Richard Leech, conducted by Richard Bonynge. In 1995 she made her debut in Italy in the Spoleto Festival's new production of Carmen with the famed Spanish film director, Carlos Saura, which was televised live throughout Europe. Also in 1995, she debuted in Australia to rave reviews for her Carmen at Opera Queensland, and later in Uruguay. Her gypsy sold out 10 houses at the Auckland Opera in New Zealand. She headed the international casts for Houston and Florida Grand Opera's Carmen. In addition to the Singapore National Opera and New York City Opera's National Company she has performed this role throughout the United States. Her Carmens in Spain include Valencia, La Coruña, Ávila, the Canary Islands, and Córdoba in 2000.
Ms. Firestone debuted Hansel & Gretel's Witch in 1999 with San Diego Opera. In Opera Queensland's 1997 (Australia) production of Samson et Dalila, Ms. Firestone received critical acclaim for her vocally stunning Dalila. In 1995 Ms. Firestone made her debut as Santuzza in Cavalleria Rusticana with Kentucky Opera. Her Amneris (Aida) has been seen with the Utah Opera, the Colorado Springs Festival, and the Festival de Sinaloa in Mexico.
Additional roles Ms. Firestone has performed include Madame Flora (The Medium) at Florida Grand Opera; Ulrica (Ballo in Maschera), Cenerentola (Cenerentola), Isabella (I'Italiana in Algeri) at the Orlando Opera Company; Prince Orlovsky (Die Fledermaus) at the Connecticut and Palm Beach Operas; and La Perichole at Opera Omaha. Ms. Firestone's Maddalena in Rigoletto opened in Houson, was her Canadian debut at L'Opera de Montreal, and her Spanish debut in the Canary Islands, and later, Seville.
On the musical theater stage, Ms. Firestone has more than 250 performances to her credit including Can Can, The Sound of Music, Kismet and West Side Story. She sang Julie in Showboat with Houston Grand Opera followed by performances of the production celebrating the opening of the new Cairo Opera House in Egypt. For Aldonza/Dulcinea in The Man of La Mancha she won the coveted Carbonell Award for Best Actress in a Musical and was nominated for Best Supporting Actress for Jenny in The Threepenny Opera.
An accomplished recitalist, Ms. Firestone has traveled throughout the Far East with the Ambassadors of Opera singing in Hong Kong, Singapore, Malaysia, Indonesia, Sri Lanka, The Philippines, and Korea. During 1991 she toured the Middle East singing for the Desert Storm Troops in the Persian Gulf.
Highlights of Ms. Firestone's symphony appearances include the Verdi Requiem in New York and the Sacramento Symphony. She sang Manuel de Falla's La Vida Breve with Eduardo Mata and the Chicago Symphony. She opened the Kravis Arts Center with the Florida Philharmonic in Beethoven's Ninth Symphony, and reprised it with the Las Cruces Symphony in New Mexico. Ms. Firestone sang Mahler's Lieder eines Fahrenden Gesellen in New York with the Fredonia Chamber Players and has performed with the Greater Miami Philharmonic and the Long Island, Palm Beach, and Delaware Symphony Orchestras.
During performances of El Amor Brujo and La Vida Breve with Florida Grand Opera, she received the Olson American Artist of the Year Award. In July 1995 she was awarded Woman of the Year at the prestigious Spoleto Festival where she returned for Rosenkavalier in the summer of 2000. Ms. Firestone won First Prize in the Center for Contemporary Opera's International Voice Competition. She was a regional Finalist in the San Francisco Opera Auditions, First Prize-winner of the Palm Beach Opera Scholarship and a Finalist in Opera and Musical Comedy (1985) in the National Institute for Musical Theater Competition.
Born in Los Angeles and educated in Florida, Ms. Firestone is of Italian, Cuban & Spanish heritage and fluent in both languages. After her university studies she continued masters vocal work in Milan.
Ms. Firestone combines recitals with inspirational speaking, holds Master Classes and Workshops throughout the world, and is often the keynote presenter at dinners and fundraisers. She is a Life Coach and uses her varied skill set to inspire authenticity, release fear, and create a strong personal foundation – all keys to a vibrant life and successful career. Ms. Firestone is presently on the faculty at New Jersey City University in the School of Music, Theatre & Dance. Organizations Ms. Firestone has worked with include: Delta Air Lines with Meet the Artist at Lincoln Center, Duke and Northwestern Universities, San Diego Opera Spotlights, and numerous celebrity brunches.