Acting for Singers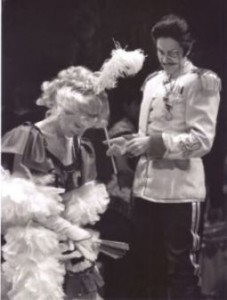 Adria as Prince Orlovsky, Cheryl Cavendish as Adele, Die Fledermaus
Learn how to:
Contact the core of the character you are creating
In every dynamic, in every rest, in the silence – lies the magic and the heart of the roles you create
Become physically aware of your body so it is a supple and revealing acting tool
Adria is the best acting coach money can buy.  She hones into who you are and what you need, then brings out the Meryl Streep in you. (cont.)
The world of opera has changed so drastically, it is now essential that a singer be more than an technical marvel, but a convincing actor as well. It is the responsibility of the singing actor to honor the music, the rhythm and the words and then with infinite care and respect, place their interpretation and unique fingerprint on that piece or that role.
Every time I bring her a new role, she gives me clear direction on how to bridge the gap between me and the leading lady, turning my performance into magic. Her methods allow me to be real in the moment, so I can do it every time. I was born with the raw talent, but Adria helped me turn it into gold! Grace Valdes

Yes, we work on acting and interpretation online. I have clients all over the world. I'm available for in-person consultations in New York City or at my studio in New Jersey but at a very different price point.
Coach with me from the comfort of your own home or office – no traffic, no commute and custom sessions to suit your busy schedule. I work with my USA and international clientele using Skype real time video. We create our own stress-free time zone!
Call or email NOW for an obligation free chat.
Phone (USA) toll free: 877 500 5717
International callers: +1 862 397 3254
Email: adria[at] afiartists.com