Voice
 Voice Lessons?
My studio is just chock full and with my speaking, I rarely have openings. I found a colleague of mine who offers a very reasonable, results-producing (and wonderfully portable!) method of study. Aaron Anastasi has created the Superior Singing Method. You get 8 modules, with warm-ups and exercises to improve your voice dramatically. I would never recommend something I haven't checked out extensively and I know won't harm your voice, will improve your breath, tone and volume and it's all easy to follow online. The cost is under two hundred dollars and each module has five separate sessions. You can't beat this price or the value. You can download the exercises and warm-ups onto your phone or computer! This is a sure bet. Even if you are a new singer and just want to experiment with a few lessons, this won't break the back and it will still allow you to get a true feeling for singing. Just Click Here! and you are on your way.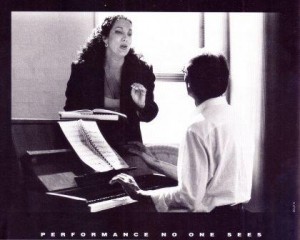 Maestro Peelman & Adria, rehearsing Dalila in Australia
Are you ready for your warm-ups?
I work with singers of all styles, speakers and voice actors. We can work on your voice online. I am available for in person voice coaching in New York City or at my studio in New Jersey. Coach with me from the comfort of your own home or office – no traffic, no commute and custom sessions to suit your busy schedule. I work with my USA and international clientele using Skype real time video. We create our own stress-free time zone!
Speaking & Singing Lessons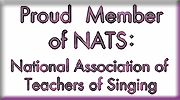 My rich background and 30 plus years on the operatic, musical and theatrical stages of this world equip me to be able to teach you a clear, concise method of improving your voice, whether it be your singing voice or your speaking voice. Because of my intensive travel,  I often encountered vocal problems with change of country, food, allergies and just plain old jet lag. ENT doctors all over this world became dear friends of mine.  I became an expert in voice care, how to conserve your instrument, and very importantly,  developed warm-ups for maintenance, and warm-ups for performance or speaking. Until I retired from the stage in 2002  I studied voice, always seeking to simplify, nourish, improve and care for my  instrument. As a singer who simultaneously walked the path of opera,  musical theater  and now speaking – during my long career, I discovered that good singing is healthy singing. Healthy speaking uses exactly the same principles. Not everyone is cut out to sing opera or be an Olympic athlete, but a fine singer with good technique should be comfortable with jazz, blues, musicals and rock and hip-hop. All of these different styles are just that,  a style of singing. Because of you I discovered the excitement of cold readings. You made me realize that I might try a career in voice work, books on tape, etc.! – E. Martinez
Are You a Voice Over Actor or Speaker?
All healthy singing or speaking is based on excellent breath control, core body strength, and the best use of your voice. In the spoken word, as in singing, the uniqueness of your sound is what matters.  My aim is not to homogenize you so you sound like everyone else. I want to uncover your unique, healthy sound and I firmly believe your singing voice should be an extension of your speaking voice.
Now when I get ready to perform and even when I wake up in the morning. I definitely start with your vocal exercises and it helps move all of the muscles in my throat and the breathing help slow my heart rate down when I'm anxious. My cold readings have also improved. Thank you for that. – S. Samat I never understood diction or the breathing apparatus so well. I know what I am working with and how to apply the technique. – G McDonald

Call or email NOW for an obligation free chat. Phone (USA) toll free: 877 500 5717 International callers: +1  862 397 3254 Email: adria[at] afiartists.com